Dear all,
when I open the Folding@home 3D visualization program I get the image of what I believe is a demo. As all other information regarding the current work, donor details etc are empty I have the feeling that the software is not showing the actual protein which I am working on but just a demo.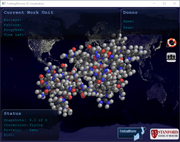 The F@h client version is 7.5.1 and it is installed on Windows 10 version 1909.
I am using a Geforce RTX2060 with drivers version: 26.21.14.3200
Is there anything I could do to solve this issue?
Thank you.
matitaccia