Welp, got the riser, PC boots but BSOD the very second win 10 starts...
I send an email to the seller telling him the video card doesn't work
Tried on 3 PCs :
-One doesn't boot, motherboard goes beeping (1 long and 3 shorts, meaning "Video card issue")
-One boots but ignores the Video Card
-One boots but win 10 goes BSOD the second it starts
So to me it starts to be obvious the video card is defective

EDIT : Just to be sure it wasn't the riser fault, I replaced the P106-90 by an old ATI X1300 I have around for years, and it works. No BSOD, and GPU-Z sees it.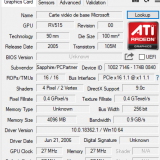 I'm really disheartened right now

I try to be optimistic and tell myself maybe the 2nd card will work and/or the seller will refund me. but I don't really believe it.
I guess I'll justgive up or buy a GTX 1650S instead ...
(What I should have done from the very begining)